Who Wrote the First "Useful" Archery Manual?: II
Writings on Archery from the Islamic and Western Worlds
by Mr. Malcolm Wright*
...Another loose, which may be called an active loose, is an appreciable improvement upon the dead loose, in that the fingers at the loosing instant are withdrawn from the string, though without any further draw, and will be found, after the escape of the string, to have resumed their previous position— i.e. curled up instead of being sprawled out straight as is the case in the dead loose. The only remaining loose may be called the lively loose, and consists of a short and quick additional draw, after the aim has been taken, of say from half an inch to three inches, and finished with an active loose, and care must be taken to prevent the degeneration of this into a snatch."[26]
Whether using the Mediterranean or Mongol draw, the trick is to get the fingers clear of the string quickly and cleanly. With the Mongol draw, this is achieved by releasing the locking index finger and letting the thumb straighten. This is actually quite easy and can be achieved with a flick of the fingers. As in all releases, it is helped by pulling the releasing hand back so as not to foul the string.
Having looked at the four books and how they cover the single act of firing an arrow, it is time to draw some conclusions.
Of the four books, the one that least satisfies as a manual is Toxophilus. It is too discursive, too interested in classical stories. As a manual, it is of very little use. Therefore I am afraid that we must dismiss it.
Both the Islamic texts and Ford's book are designed to pass on information on archery in as clear a way as possible. Bearing in mind the reservations specified when we first met these books, it is easy to say that all three books make a useful contribution to an archer's library. Historically, there is five hundred years separating the earliest, Saracen Archery from the latest Theory and Practice of Archery. It would have been nice to have a 14th-century Western manuscript on archery, but it is unlikely that one was ever written; or if one ever was, that it exists today. Therefore, Taybugha's book is easily the earliest usable manual on Archery.
However, to be useful, a manual does not only have to have the correct content but specific content has to be found easily and quickly. Luckily, a copy of the original manuscript of the book known as Saracen Archery is kept in the British Library in London (MSS Add. 23489). Dr. Okasha El Daly, an expert on medieval Arabic manuscripts who had written his doctorate to prove the theory that medieval Arab scholars were well on the way to cracking the secret of ancient Egyptian Hieroglyphic writing. He agreed to look at the manuscript with the aim of solving certain questions relating to the ease of access through the manuscript.
Earlier on, we defined some characteristics that a manual should have. If we look at them again ,and also look at the manuscript, we will be able to see how well Saracen Archery fits our criteria:
Is the material comprehensive and organised in a logical sequence?
To help solve this question, Dr. El Daly had copies of five selected chapters of the English translation. It would be interesting to compare these against the original to see if the chapter headings were the same.
The manuscript did contain chapter headings, and of the five chapters two were exactly the same. However, it is quite usual for translators to combine chapters together under general headings, which appears to be the case in this manuscript.
The language used in the manuscripts is clear and in normal every day speech. The body takes the form of a poem with explanations supplied later. The idea of putting manuals in the form of a poem is actually very logical. Poetry is easy to memorize and learn. So many Muslim scholars, even scientists dealing with mathematical and medical subjects, choose this format to make it easier for students/readers to study and memorise the text.
Is access to a specific subject easy?
It would have been nice if the manuscript contained a list of chapter headings, but this is not the case. Neither are any forms of cross reference or indices, but this is common in medieval manuscripts. It is also worth pointing out that the most modern book we have discussed, Theory and Practice of Archery, also does not include any form of cross reference or index.
In addition chapter headings are written in red to make them stand out. In the manual, there is a formula given for calculating the weight of a bow string for a specific bow. Dr. El Daly found the reference fairly easily. He writes:
"It was easy to find this verse in Or. 1358, fol. 44a). It is only one line followed by detailed explanation titled "weight of the string". This verse is:

يكون ثلثُ عُشر عُشر العشر من حَيل قوس زين بالأوزان


It is roughly translated as: "It is (i.e. the weight) third of one tenth of one tenth of the one tenth, of the HAYL of the bow adorned with weights".
The translation used in Saracen Archery is:
"As weighed by a balance the string should be one-third of one-tenth
Of one-tenth of one-tenth of the weight of the bow".
Are complex procedures are broken down into a series of steps?
Saracen Archery goes into great detail on the construction of bows and ancillary equipment. It also describes every activity that is involved in, for example, stringing a bow.
Are illustrations are available to make the text clearer?
The manuscript did not have any illustrations, but again this may well be true of the bulk of Arabic medieval manuscripts. What illustrations that may appear are possibly more decorative than illustrative.
It is easy to see, therefore, that access to information in the original is quite easy and, although the translation includes a list of chapter headings, it is as easy as for an Arabic scholar to find their way around the document, including going directly to specific sections as it is for a modern reader, using the English translation, to do the same.
7. Appendix : Historical Literature on Archery
Archery has been a rich inspiration for writing throughout history, both in the East and in the West. There are obviously many other books written between 900 CE and the 20th century. However, it would not have been possible to use all of them unless the intention had been to write a book rather than an article. Some writers are not mentioned because their writings are difficult to get hold of or, in some cases, known but lost.
As mentioned before the criteria used in the selection on the source material were:
They had to be originally written in English or have been translated into English (paradoxically this meant that the hardest book to read was Toxiphilus which is written in the English of the 16th century!)
The book had to be easily available.
The book had to be comprehensive; that is it had to cover archery in some detail.
The following is a brief, though not necessarily complete, list of writers who have written on archery through the ages.
7.1. Eastern Writers
Much of what Al-Yunani writes about is based not only on his own practical experiences, but also the writings of authors before him. These are considered to be "masters" of Islamic Archery.
The writer of Arab Archery mentions three men considered as "masters". These are Abu Hisham al-Mawardi, Tahir al-Balkhi and Ishaq al-Ragqi. There is also a reference to a work by Tahir al-Balkhi (possibly also called al-Tabari) called Kitab al-Wadih (The Clear Book). In several cases, Arab Archery compares the teachings of the three masters.
13a. Large image
Figures 13a-b: Views of manuscript pages depicting archery training in Abdurrahman b. Ahmad al-Tabari's Kitab al-makhzun jami` al-funun, Istanbul, Topkapi Palace Library, MS Revan 1933
Murda ibn Ali ibn Murda al-Tarsusi wrote a book, Tabsirat arbab al-albab fi kaifiyat al-najat fi al-hurub in about 1187, which was mainly about military strategy but contains sections on archery.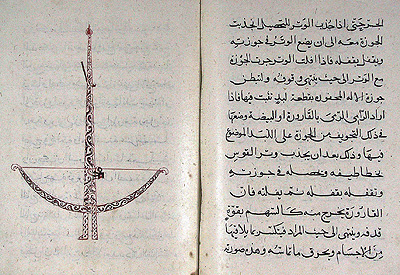 Large image
Figure 14: View of an Islamic bow and arrow. Source: Murda Ibn Ali Murda al-Tarsusi, Tabsirah arbab al-lubab fî kayfiyah al-nuja fî'l-hurub, Suleymaniye Library, Collection Ayasofya, MS 2848.
It appears that the first useful book to be written in the West on the subject of archery was written by an unknown Frenchman, possibly from the region of Picardie and probably in the late 15th or early 16th centuries. The first publication was of an incomplete text in pamphlet form called L'Art d'archerie and was probably published originally in 1515 in Paris, making it the first book on archery published in the West.
However, towards the end of the 19th century, Henry Gallice obtained a vellum manuscript entitled La Fachon de tirer de l'arc à main which turned out to be the complete text of the original book. This was then published in 1901. The main problem with this book is that, although to the point, it is lacking in detail.
As might be expected, most of the books on archery published between 1532 and the end of the 19th century were written by English writers. They contain a lot of interesting information, but lack the clarity that is expected of a manual. It seems that English writers were more interested in rehashing the story of Robin Hood or other archery themed stories rather than detailing the practicalities of archery.
In this group we get:
The Art of Archerie by Gervase Markham (1634).
An Essay on Archery by Walter Michael Moseley (1792).
Anecdotes of Archery by E. Hargrove (1792).
The English Bowman by T. Roberts (1801).
A Treatise on Archery by Thomas Hastings (1831).
The British Archer Thomas Hastings (1831). This book could have been included, as it is pretty comprehensive; however in many ways it is too close to Horace A. Ford's book, both in contents and time.
The Archers Guide by Old Toxophilite (1833).
The Book of Archery by George Agar Hansard (1841).
How to train in Archery by Maurice Thompson and H. Will (1879).
The Witchery of Archery by Maurice Thompson (1879).
Badminton Library of Sports: Archery by C.J. Longman and Col. H. Walrond (1894).
Additional Notes on Arrow Release by Edward S. Morse (1922).
Hunting with the Bow and Arrow by Saxton Pope (1923).
The Flat Bow by W. Ben Hunt and John J. Metx (1936).
These books are, in their own way, marvellous pieces of work, and would make an interesting object of study. Additional Notes on Arrow Release covers only the act of the loose but in great detail. It may be that Edward S. Morse was the first person to use the term "Mediterranean Release". Hunting with the Bow and Arrow includes a fascinating story of the last Yana Indian in America, and the book looks at his equipment and the way that he hunted, thus giving us a brief window into the distant past.
However, the intention was to find the earliest useful books on archery and it is not until the reissue of the Horace A. Ford book Archery, its theory and practice that we get a book that is sufficiently informative for a beginner, or a skilled archer, to get much from.
- Ascham, Roger, Toxophilus, edited by Edward Arber. London: Southgate, 1545 & 1868.
- Ford, Horace and Butt, W., Theory and Practice of Archery.Longmans, Green and Co, 1887.
- Öztopçu, Kurtulus, A 14th-Century Archery Treatise in Mamluk-Kipchak: Kitab fi 'Ilm an-Nushshab, Istanbul 2002. View Table of Contents.
- Taybugha Al-Ashrafi Al-Baklamishi Al-Yunani (English Version by John Derek Latham and William Forbes Paterson), Saracen Archery: The Complete Manual of Archery for Cadets. With introduction, glossary, and illustrations. London: Holland Press, 1970.
- [Unknown author]. Arab Archery: an Arabic Manuscript of about A.D.1500: A Book on the Excellence of the Bow and Arrow and the Description Thereof. Translated by Nabih Amin Faris, with notes and appendix by Robert Potter Elmer. Princeton, NJ: Princeton University Press, 1945. Reprinted Kessinger Publishing, 2007.[Reviewed by William Thomson in American Journal of Archaeology, vol. 51, No. 4 (Oct. - Dec., 1947), pp. 469-470].
[Asian Traditional Archery Research Network] Islamic and Middle Eastern Archery Traditions.
Lake, Fred & Wright, Hal, A Bibliography of Archery: an indexed catalogue of 5,000 articles, books, films, manuscripts, periodicals and theses on the use of the bow for hunting, war, and recreation, from the earliest times to the present day. Manchester: Simon Archery Foundation, 1974.
Nabih Amin Faris, "Holy War" (a review on the original manuscript Kitab fi bayan fadhl al-qaws wa-'l-sahm wa-awsafihima in Princeton Library (Garrett Collection MS 97), The Princeton University Library Chronicle, vol. 4, n° 2-3, February-April 1943, pp. 82-85. Read online here.
Paterson, W. F., "The Archers of Islam", Journal of the Economic and Social History of the Orient (Brill), vol. 9, n° 1-2 (November 1966), pp. 69-87.
Özveri, Murat, Turkish Traditional Archery. Part 1: History, Disciplines, Institutions, Mystic Aspects.
[Cariadoc's Miscellany]. Concerning the Archery of al-Islam. © David Friedman and Elizabeth Cook, 1988, 1990, 1992.
Klopsteg, Paul E., Turkish Archery and the Composite Bow. Privately printed by the author, Evanston, IL., 1947. Derrydale Printing, 4th edition, 1993.
Mann, Horace, Traditional Weapons of the Muslim Warriors.
Grayson, Charles E., French, Mary, O'Brien, Michael J., Traditional archery from six continents: the Charles E. Grayson Collection. University of Missouri Press, 2007. "3. The Islamic Crescent", p. 59 ff. To read online click here.
The Archery Library: an online library of books on archery mainly covering Western archery.
10.
References
[1.] However there is the possibility that at one time Al-Yunani was a high ranking member of the Sultans Court and was the author of works on mathematical instrumentation. François Charette, in his recently published book (Mathematical instrumentation in fourteenth-century Egypt and Syria: The Illustrated Treatise of Najm al-Din al-Misri (Islamic Philosophy, Theology, and Science), Leiden: Brill, 2003) asserts that 'Ala' al-Din Taybugha al-Dawadar al-Baklamishi living in Egypt in the late 14th century can be identified with near certainty with Taybugha al-Ashrafi al-Baklamishi al-Yunani, the author of the book we know as "Saracen Archery". The title of "Dawadar"–The Amir in charge of the royal inkwell– indicates an important office in the court of the Sultan. According to Rosenfeld and Ihsanoglu, this 'Ala' al-Din Taybugha al-Dawadar is also an astronomer and wrote two books on the subject: Risâla fî muqantarat khatt al-istiwa' (Treatise on Almucantars on the Line of (Terrestrial) Equator), Princeton Universisty Library, MS Yehuda 373; and Risâla fi rub' al-shakaziyya (Treatise on the Quadrant of the Shakkaziya (Astrolabe)), Cairo, The Egyptian National Library, MS Miqat 774. See B. A. Rosenfeld and E. Ihsanoglu, Mathematicians, Astronomers and Other Scholars of Islamic Civilisation and their works (7th-9th centuries), Istanbul: IRCICA, 2003, no. 761.
[2.] In an electronic article published in 2005, The Training of the Mamluk Faris, Hassanein Rabie presents a brief description of the archery training of the Mamluks..
[3.] However, in archery the two cultures are closer than we might think. Both had intensive training regimes for archers was ingrained deeply into both cultures.
[4.] Faris & Elmer 1945:6.
[5.] Faris & Elmer 1945: 17.
[6.] Faris & Elmer 1945:106
[7.] The encyclopedia Diracdelta of science and engineering defines a machine as "any mechanical… device that transmits or modifies energy to perform or assist in the performance of human tasks".
[8.] Ascham 1543: 3.
[9.] Ascham 1543: 5.
[10.] Taybugha 1368: 1.
[11.] It would not be fair to give the impression that the four books mentioned are the only works on archery in the East and in the West from the 10th century to the present day. For a brief discussion on other sources, and why they were not used in this article see "Appendix : Historical Literature on Archery"at the end of this article.
[12.] Taybugha 1368: 101.
[13.] Ascham 1545: 147.
[14.] Ford 1887:86.
[15.] Taybugha 1368:48
[16.] Ascham 1545:148.
[17.] Ascham 1545: 148.
[18.] Ford: 99.
[19.] It would be wrong to assume that the "Mongolian draw" arrived in the Middle East and Europe with the Mongols. Thumb rings were found in Meroic graves in North Africa dating back to between 300 B.C.E to approx 300 C.E. The Roman archers used thumb rings as did other contemporary archers. It is possible to theorise that Ancient Egyptian archers used the "Mongolian draw", but the evidence comes mainly from the shape of the hand drawing back the bowstring in depictions of Ancient Egyptian archers – mainly of the kings. The formalisation of Ancient Egyptian paintings and drawings make it difficult to be absolutely sure.
[20.] Stephen Selby, How do I use a Thumb-ring with a Mongolian Draw? (updated 5 October 1998).
[21.] Taybugha 1368: 58.
[22.] Taybugha 1368: 58.
[23.] Taybugha 1368: 60.
[24.] Ford 1887: 113.
[25.] Taybugha 1368: 64
[26.] Horace: 125.
~ End ~
* Mr. Malcolm Wright is an expert in Computing. He is now retired and lives in Spain. Besides being fond of archery, in practice and theory, he holds a Certificate and Diploma in Egyptology (both Merits) issued by Birkbeck College, University College in London. We are grateful to him for his willingness to permit us the publication of this article.
by: Malcolm Wright, Tue 02 February, 2010